Date/Time
Date - 12/03/2017
9:00 am - 4:30 pm
Image and Word: Collage and Writing Workshop for Women
Sunday, December 3, 2017
9 a.m. – 4:30 p.m.
Sonoma County Healing Academy
Sebastopol, CA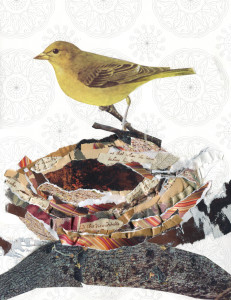 Explore and express your inner life through image and word.
Bring your notebook and pen, and come with an open heart to this day of personal exploration and self-expression. This workshop offers a dynamic combination of collage-making and writing practice that opens a door to the inner life.
This workshop is both fun and meditative.
Don't worry if you don't consider yourself an "artist" or a "writer." This workshop is both fun and meditative, and no experience is necessary. Just relax, enjoy, and see what comes.
You'll work with two seasoned guides.
At this workshop, you'll have the benefit of two seasoned teachers/guides who have collaborated many times to support wilderness-rites-of-passage quests.
Susanne Petermann:  In 1995, a life-threatening medical situation inspired Petermann to make collages to express deep emotion and reflect her nner landscape. "Like the surprising combination of words in a poem," she says, "a collage (an assemblage of disparate images) can evoke a mood, please the eye, tell a story, and carry a hundred interpretations. These collages often become a springboard for spontaneous writing as I explore the characters, just as I would a dream." Above is an example of her collage work entitled, "Canary Nest."  Petermann is also a poet and translator, whose translations of Rainer Maria Rilke's French poetry will be published this fall.
Susan Hagen is a wilderness rites-of-passage guide and co-author of "Women at Ground Zero: Stories of Courage and Compassion."  She combines her experience as a writer and guide to offer heart-opening, life-affirming writing workshops and retreats for women. She is also available for individual coaching and mentoring to help foster your creative life and move your writing projects forward.
$137 for the day. All art materials are included. Please bring your lunch.
This workshop is FULL. Please contact Susan to be on the waiting list.


or Susanne Petermann at
541-773-9484

Cancellation Policy
• Refunds cannot be issued after 24 hours; however, for half-day and full-day workshops, a credit may be issued for other programs IF REQUESTED 14 OR MORE DAYS before the start of the program. After 14 days, credit can only be issued if your reservation is filled by someone else. All date changes are subject to a 20% fee and Susan Hagen's approval. Credits expire 6 months from the date of the originally scheduled program.
Dog Policy
• Please DO NOT BRING YOUR DOGS (or other pets), even if you plan to leave them in the car.
What to bring to workshops
• Your notebook and several pens.
• A simple, ready-to-eat lunch that requires no heating or preparation.
Etiquette
• Please call Susan at 707-888-0849 if you will be late or absent.
• Arrive 10 minutes early.
• Avoid wearing perfume or scented body products.