Writing Retreats for Women in Sonoma County.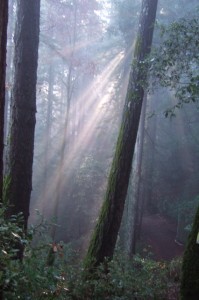 SEE DATES BELOW
Live in Harmony with Nature.
Retreat to a private, woodsy cabin north of San Francisco to write, explore, and deepen your craft. Three times a year, I offer an opportunity for eight women to join me in creating a safe, supportive writing community as we live and write together. St. Dorothy's Rest is nestled among Northern California's famed redwood, fir, and madrone trees overlooking a sweeping green valley near Occidental. The hills are abundant with birds, wildlife, and the peace and quiet that come with living in harmony with nature.
Learn New Skills to Improve Your Craft.
We begin each day with meditation, guided imagery, and nature-based practices to quiet the mind. Then we write and share our stories, practicing new skills and techniques to improve our craft. Some writers are working on books or collections of stories, while others come for the freedom to explore and expand their writing lives. Whatever your intention, you'll come away with a stronger writing practice, plenty of new stories in your notebook, and the priceless gift of deep listening from others.
Your Time to Write, Breathe, and Explore.
Come write with other women, walk among the trees, eat delicious food, push creative limits, sleep deeply, surprise yourself. Cabin life is informal and relaxing. Someone else does the cooking and cleans up after you. Everything supports the inner life and makes way for deep exploration. Beginning, experienced, and exploring writers of all genres are welcome.
———————————————————————————
WINTER 2018 Writing Retreat for Women
Only 1 spot left!
• January 19-22, 2018
• 3 p.m. Friday to 3 p.m. Monday
• 4 days/3 nights lodging, all meals, private room, shared bath.
• St. Dorothy's Rest and Retreat Center, near Occidental, CA.
• Two hours north of San Francisco and Oakland Intl airports.
• Full-payment discount: $1,077 (or three payments of $389)
• See cancellation policy below*
Register here with Paypal or your credit card:
Contact Susan for more information.


*Cancellation Policy for Retreats: Refunds cannot be issued after 24 hours; however, for retreats of two or more days, a credit may be issued for other programs IF REQUESTED 30 OR MORE DAYS before the start of the retreat. After 30 days, credit can only be issued if your reservation is filled by someone else. All date changes are subject to a 20% fee and Susan Hagen's approval. Retreat credits expire 12 months from the date of the originally scheduled program.
"The retreat exceeded all my expectations.
Since coming home, the stories are just pouring out of me."
Kathleen Munson, Santa Rosa, CA
"Very affirming, supportive, grounding, connecting and inspiring."
Sybil Meyer, Berkeley, CA